7/31
gm 3 vs the Snakes
Los Angeles Dodgers Luis Coleman 1-0 (4.69)
vs.
Arizona Snake Patrick Corbin 4-9 (5.15)
+  +  +
 We Keep it Old School:
Retired Numbers Pin Series #19 Jim Gilliam
+ + +
Check out the EXCELLENT! article from the BEST L.A. Dodger Blog
about the man of the evening, #19 Jim Gilliam 
in the following link:
by Harold Uhlman of

Think Blue LA

fame.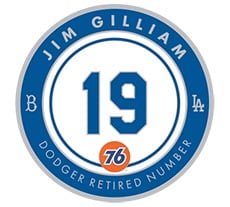 +  +  + 
This past week fires have been raging all over Southern Cali.  
Smoke will be in the air for days.  
Breath it in, Breath it out. 
The game must go on. 
+  +  + 
At Check-in, 
Because attendance is so low for this afternoon's game the Dodger Dog Express
is closed, so no grilling Dogs for me.
Looks like I am scheduled to work a bar near by.
  +
(Hey, there's my friend Art) 
 "You know what I like about this spot?" Eastside Art tells me. 
"The breeze aye . . . it blows right through here." 
"Simon!- So long smoky air."
+ + 
Game on,
+  +
At the Bar,
I'll be pouring suds for the regular beer-tenders:
Ismael a vato from the La Puente area and Mrs. Gladice from Rancho Cucamunga 
+ + 
 The 1st customer of the day approaches the counter.
"2 Modelos, please."
Ismael replies,"$30, please." 
I give a double look for a glimpse of the guest's expre$$ion- apparently he
is not disturbed by the cost. 
The $30 dollars is exchanged and the patron walks off satisfied. 
"Boston fans tip," Israel complains.
"Who else does, New York?"
"Yeah those fans do tip, bro, but the real question is: Does anyone tip on
the Reserve Level?-
  "Nobody!"
+
"Next Customer!"
"Bud Light, water, and peanuts, please," the Chicano requests.
"That will be $46."
WTF!- I give a look to see the guest's expre$$ion, the second look my head
spins around like Linda Blair's.  
Ismael gives the patron his change, a $ingle is left on the counter.  
He grip$ the dollar and stuff$ it in his pocket, "That breeze man, oh yes!"
+
Next,
 A 4 month infant on daddy's shoulder checks out our beer selection.
"Gotta start them young!" says the Homie.
+
"Look there's a guy dressed like a hot dog!"
 I raise my Fist in the air.
"Right on!" the Hot Dog Man affirms.
+ +
The National Anthem is about to be performed . . . .
  . . . by I don't know by who, but everyone is ready to listen, respectfully.
+
1st Inning,
This is random . . . I recognize someone here.
A former student of mine, Mr. Charles Berlin and his girl friend stop by.
"TONY!" he exclaims.
"CHARLES!"
"This was my art teacher," he shares with his partner.
 "He can tell you about any (Specialty) Dodger Dog in the Stadium."
"This is true!"
A few years back Charles was one of our best artists.  He penciled some
of the most grotesque, horrifying, freaky, monstrous, looking illustrations
of human like caricatures.  His sketch book was filled with drawings of
opened mouths with abnormally large teeth, ghoulish tongues, and strained
eyeballs.  I kept pushing him to draw more and more but he hit a wall.
 Charles was in class everyday.  I had to give him credit for something so I
brought my graphic novels to the school in an effort to inspire him.  
He read titles for mature readers like Vertigo's "The House of Mystery" and 
"Y the Last Man".  Basically, talking comics became our point of artistic
discourse, he got a grade for it.  
I have to ask: "Are you reading anything good?"
Charles brought up a book called "Musicophilia: Tales of Music and the Brain"
by Dr. Oliver Sacks.  (Dude, I'm talking about comics!) I had to recommend
the comic "Scalped" by Jason Aaron.  
It was a quick chat but damn satisfying knowing that Charles is still a graphic
novel enthusiast.  I tell my students all the time: "If it wasn't for comic books,
I'd be in jail." I just wanted Mr. Charles Berlin to appreciate legit art. 
The couple do not drink alcohol so I directed them where they could find 
the Specialty Dogs toward isle 10.
 + +
"Next customer!"
"A Dos X please."
"That will be $15!"
+  
At the moment,
Vin is providing the Stadium with a "Game Day Preview"
+ +
"Next customer!"
A balding middle aged man with the slickest comb over asks for a Dos X.
Ismael cracks open a 24 oz. for the soul and sets it in front of the guest.
"I pay $15 and I don't get a cup?" the man questions.
"NOPE."
 +
Some dude is rocking a random Miami Marlins hat that reads: Meet you at the end!
What in the hell does that mean?  Marlins blow chunks, bro!"
 +
2nd Inning,
"Can I have a Tecate please."
"You look like you need two of them!" Ismael recommends.
Ismael keeps talking . . .
 +
''2 Modelos, please."
"What do I own you?"the 21 year old dude asks.
"$30!"
"That's your allowance for the week," Ismael chides the thirsty fan.
+
 "Do you take Apple Pay?" asks the next thirty fella.
"I'll take anything, I'll take your first born,"
+
4th Inning,
I spy an S.F. Giants fan, WTF?  
A brand new Will Clark #22 jersey, huh?
This guy might as well wear a Yankees jersey, because nobody cares, mang!
And to top it all off he is a long bearded, tribal tatted, with a star tat on his 
neck and blazing sun tats on his knees. This guy must have had the lowest
self-esteem to do that to himself. 
What a joke.
+
Bottom 4th,
Dodgers have the Bases loaded!
Yasil Puig actually shows up and  punches a 3 RBI double to put the Dodgers on top!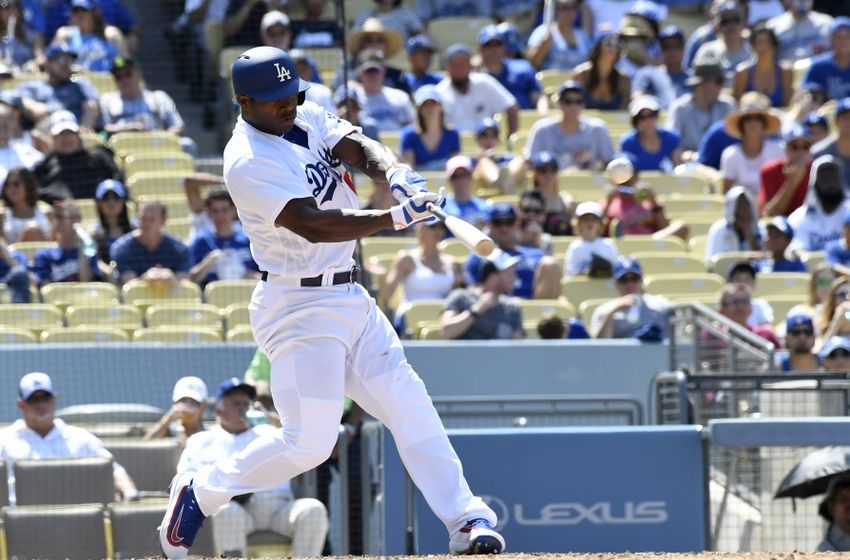 Heck YEAH!!
+ +
5th,
"Ultra Light please," a Lady requests.
"$27."
(Ouch!)
+
"I'll have two dos X."
"$30!"
(Jeebus!)
+
A graying African American man with his two 6 ft. tall sons approach.
"I'll have 3 bottled waters please."
"$19.50, please."
"That's the best deal in the house!" the proud father exclaims.
Both of his boys nod in agreement.
+
6th,
"Let me get two golden road IPAs"
"$29."
+
Dude with an Oakland A's cap and his buddy rocking an Anaheim Angels cap
are ordering beers.  They got some American League beer bellies too.
+ +
Top of the 7th,
"LAST CALL FOR ALCOHOL!"
"1 Kirin and 2 Heinekins, please!" the old man clammers.
"$30 please."
 +
"16 oz. of Point the Way IPA."
"$14.50"
 +
"24 oz of Dodgers Blonde Ale!"
"$15."
 +
"Two 25 oz. tall cans are $15 each?"
"You got it!" 
 +
Holy moldy socks!
There's a Christian Faith Celebration after the game.
+ 
We spy,
A "Tacos" #90 Diamondback jersey with his wifey rocking a #16 Ethier jersey.
+ +
Guest: "2 modelos, please!"
Ismael: "That will be $30, please!"
Guest: "Ouch! It better taste good."
Ismael: "Welcome to Dodger Stadium."
Guest: "Thank you I guess."
I pour two cold ones.
"Here you are sir."
Guest: "Thank you bud,"
+ +
6th,
"This place is expensive," the little kid tells his buddy who's munching on ice.
+
"Let me get a Modelo real quick," Isreal promps.
"Got it!"
"$15".
+
One of the Stadium custodian ladies on this level walks passed the bar and looks over our way.
"Isn't she pretty every inning," Ismael says to himself.
Meanwhile, Yasmani Grandal hits his 15th homer . . . 
 +
"Pour two blondes and an IPA." Isreal requests.
"Got it!"
+ +