July 29 
Dodger Mike Bolsinger 4-5 (2.83)
vs
Oakland Athletics Jesse Chavez 5-10 (3.45)
 Yasil Puig Bobbblehead Night
+
The Dodgers should take more in-field before the game, they haven't been doing that enough lately.
+
Mr. Ronald Nelson, Vendor Extraordinaire also agrees. 
+
Since 1958, both of these guys.
+
Outside during check-in, 
Ronald tells me quick story of when he was 15 years old. 
"It was when I went home from school, 1947. My mom forgot to close the lid on the washing machine,
the porch became slippery with soap.  So's I slipped on the steps, cracked my head open, and I was in the hospital
for 6 months.  I think Roger had (injured) his head the same way but he doesn't like to reveal that."
"Maybe (Roger) wrote about that in his book," I mention.
Ronnie continues, "I would have gone to the Navy, into the Korean War if it weren't for the head accident."
"I'm glad you didn't go, Ronnie."
 +  +
Pre-game Vendor meeting.
+  +
It's break time with the Wetzel Pretzel Crew,
We talk about Armando Sahagun.
He passed away last week. 
My buddy Damian who had worked with him just last home stand on the Field Level told me,
"It didn't feel right (last night) without Armando on the grill." 
So young, 22 years old, the Stadium loses another family member.
Sitting across from me, Pancho #4, he calls himself out of the Pancho Pantheon that roll and bake Pretzels tells us,
"He is a better place now."
 "You think so," Roman asks.
 "Of course, only the good die young."
(Well said Pancho, well said)
 +
Back in the Stand 740,
Big Jessie who makes the Garlic Fries answers his cell phone,
"What happened? What happened?"
This is the same question people are asking themselves about Armando,  how did (it) happen?
I pray we find out.
May you rest in peace, Armando  .  .  . silence.
+
P  E  A  C  E
+
Stadium Gates are open,
It's a Wednesday game so Dodger employees get a nice 50% discount on hats.
Maribel the Wifey is showing off the new Dodger hat she bought earlier.
 LOL!
"You can wear that at the zoo."
 +
Fryers continue to give and give .  .  .
J.C. the Fry Guy is loading frozen potato cuts.
Garlic Boy is mixing kosher salt, garlic, and hot papas.
Jose is .  .  . (where the hell is Jose?)
And
Maribel be dropping chicken tenders in 375 degree soy bean oil.
"It's hot in here," Rochelle laments.
"The people are eating!"
 +
"Feed my children, Feed!" the Fry Guy shouts.
 +
 The Spicy Chicken sandwich lettuce is looking nice and green today.
 +
"How many Garlic Fries do we have left?"Jesse asks.
Fry Guy checks the a-la-cart window, "Less than zero!"
"What?"
"Make more Jesse, Make MORE!"
+ + +
1st Inning,
We be prepping, cooking, and serving.
Rochelle on the Soda Fountain detail is pouring sodas and brews.
Stand Manager Rosa is counting green backs, 
Except Ms. Justine the Assistant is doing something else  .  .  .
"Do you need any help?" she asks as we pack tenders in their containers. 
"No, keep studying!"
The Assistant is working on her college algebra homework.
She has a test on Friday.
+ + +
2nd Inning,
"Order more Dodger Dogs!" Jose exclaims.
"Feed!" Fry Guy hollers at the Dodger fans.
 +
"Do you need help," Justine asks again.
"No, do your classwork, we got this!"
+
The Fry Guy starts to howl like a wolf.

+ + +
3rd inning,
We are behind on French Fries and the bananas have hit the fan.
+
"We have No-More-Fries!" Maribel shouts.
"Who is cooking the fries?"
I tell her, "J.C. went to buy a hat, who's in charge?"
"You are!" she shouts.
I have to pass the buck.
"No way! Jose is!"
+
SHIT!
No biggie.  Load up the papas. Set the timer.
No problem.
+
 Fry Guy comes back, sees that we have a long line outside and fries are still cooking, 
"Man, I can't leave you alone for one second."
+
 "Do you need any help, guys?" Justine asks.
"No, keep studying!"
"Ok! OK!" she relents.
  + + +
4th Inning,
Puig goes deep!
  3-1, Dodgers
+ + +
5th Inning,
During this time, we always have a late rush.
People are falling off:
"Where is Jose?"
'"He is watching the game," J.C. believes.
"Where is Maribel?
"She's using the restroom," Rochelle claims.
"Where is Justine?
Oh, yeah, she is finding the x- and y- intercept.
"She's doing inventory," Rosa tells me.
Good, I knew she was counting something.
+ + +
6th Inning,
"Shit!" Some how the Dodgers are down, 6-3.

Fan appetites are low.
 We sumani the hell out of the floors: sweep,mop, and dump the chocolate milk to the ocean.
The Silver Prep Counter gleams.
 Chicken Tender Stand is immaculate.  
Justine is done with her algebra.
 + + +
Bottom of the 7th Inning,
Dodgers have 2 outs.  Doesn't look good.  The Stand is clean. Time to go home.
Concession workers can be dismissed at the end of the 7th if we cooked enough and cleaned well,
just a matter of time before we are all out of here.
"Let's go wait at the check-in/check-out machine," Maribel recommends.
"Ok."
+
At Check-out, bottom 7th
There isn't a single worker in line at the clock-out machine so we post-up waiting for the final out of the inning.
On the TV monitor across the way, we wait and watch for the final out of the inning to play out.
 +
Howie Kendrick walks, Scott Van Slyke moves to second.
Athletics Pomeranz relieves Rodriguez.  (Damn!)
+
Adrian Gonzalez doubles to deep center, Van Slyke scores, Kendrick to third.
(Courtesy of Stephen Dun, Getty Images)
+
Yasmani Grandal reaches on infield single to third, Kendrick scores, Gonzalez to third. (YES!)
+ 
"Damn it, come on Dodgers, I  wanna go home," Maribel crys, LOL. 
+
Kike Hernández doubles to deep center, Gonzalez and Grandal score.  (YES!)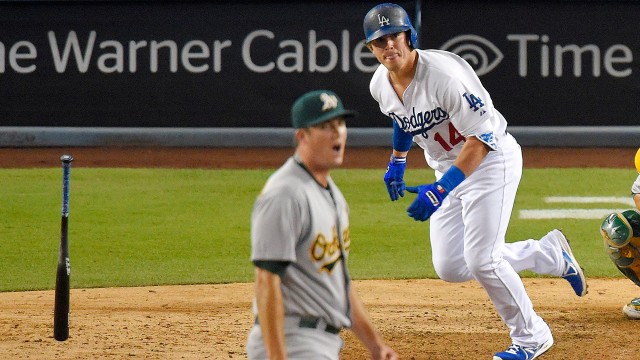 Otero relieved Pomeranz. (Damn!)
+
Puig singled to left, Hernández scored, Puig out at second 
YES!

+
"It tool 25 minutes for that last out, Uggh!" Maribel crys LOL
"Lets go home."
 +  +
Dodgers rally over ChOakland, 8-6!
84ever