SHOWDOWN
LA Dodger Josh Beckett 0-3
versus
Milwaukee Brewer H. Burgos 1-1
+++++++++++++++++++++++++++++++++++++++++++++++++++++++++++++++++++++++++++++++++++++
 In the Burger Stand,
I'm late to work again. 
Everyone is out to their break time but me and Boss Lady.
"There is no meat," she informs me. 
The rest of the ingredients are good to go thanks to my peeps.
(Wash hands with soap and hot water- latex gloves)
I proceed to insert numerous turkey patties in the upper track of the broiler.  Next, I open the plastic
bag that contains the sesame seed buns and insert the bread tops and bottoms on the lower conveyer
track that leads to the toaster in the machine.  These foods, the meat and the bread, which are inserted
into the back of the broiler, will come out well-done from the opposite side.  Once all of bread is put in,
I continue to add turkey patties but I mistakenly drop a patty on the floor- Right in front of the Boss. 
Naturally, I have to pick-up the patty so I am just about to grab the piece of plastic that had contained
the bread in an effort to use it as a . . . .
"Use the plastic to pick up the turkey," Bossy demands.
(She looks all serious)
Bubble:  ???
I'm instantly annoyed, "You just want to tell me what to do- even though I already know."
(She is instantly annoyed)
"Antonio Varela!  You know what you can do!"
(Eyes are locked)
Bubble: She is hinting at 'If you don't like it- then leave (the Stand)'.
"I think, you know, what you-can-do . . . keep your advice to yourself."
"Then do it," she says.
"Noooo, you do it," I repeat.
"If you don't like it, then you can leave."
"Leave?  You can leave (just like you left your last stand), when-ever-you-want!"
"Exactly, Antonio Varela!"
"Exactly!"
Bubble: Whatever you. . .
Bossy's Bubble: Whatever you . . .
+++
Break room time,
 As soon as I get comfortable in the employee rest area, I'm watching the news on the tiny t.v. screen
when my friend Roxy the Lucky Charm sits next to me for some chit-chat.  Quick to talk, she seems
to have some things on her mind. 
"Have you been writing (the Blog)?" she asks me.  I tell her that I do when I can. 
"What do you write about?"
"Well, if I feel like writing about sitting down and drinking a cup of coffee, then I might write about it."
"Have you thought about writing (on) controversial topics?" she implores.  I'm not sure what she means
so I ask her if she is talking about "immigration" or something of the sort.  "Yeah, she nods, do you
write about serious issues (besides) what happens (at the Stadium)?"  I'm not sure what she is saying but
I tell her that I believe in the "American Dream"- illegal or not.  Bubble: Does she mean do I covering
the war in Afghanistan?  Roxy goes on to say how the "world is a F-ed up place" but no specifics.
"Do you mean, do I write about controversial matters regarding the Stadium, like:  Does the tons of
trash we use to serve food like plastic products and cups get recycled after every Dodger game- or
does it go straight to a landfill?   She nods her head but I'm not convinced I hit the target.  I ask Roxy
to give me an example of what to write about . . . . she nods her head.  "What would you write about?" I
ask one more time. 
"Me?"
"Yes."
Her eyes slide to the right, then back at me and she smiles- uncertain.
"Do you mean something like gay marriage?"
"Yes!"she entertains.
"Well, I mentioned (in a blog) that we spoke about homosexuality."
"You did." She didn't read it apparently.
Bubble: I got one! 
"What about when the Dodger "Kiss Cam" is capturing couples in their seats?  I ask, Why is it
that cameras always show heterosexual couples kissing on the Jumbo Tron?  Why can't they show . .
"Two girls . ." she interjects.
"No, two gay dudes kiss."  Her eyes widen, shocked- she did say 'write something controversial.'"
So there you have it . . . why not? 
Personally, I think the public isn't ready to see it, period
+++
The National Anthem is performed by Rod Delaney.  Sounded fantastic!
+++
Once I return to the Stand. It's obvious that my peeps are getting the job done: 
Boss is busy cooking the books at her table/office.
Tommy the comic book aficionado is feeding the broiler. Boss has decided to make a vegan work with
meat, apparently.  (LOL, Tom's a good sport) 
J.C the Fry Guy is busy stuffing 16 ounce cups with freedom fires.
Jazz, Maribel, and Hamburger Helper are diligently working the burger line.  All three of them are
leaning forward on the silver counter, their backs to the front of the Stand.  I wash my hands in hot-hot
water, slip on some latex fingers, and attempt to help them with stacking burger buns but I'm wedged
out of the way by Jazz.  I'm being ignored. 
Bubble: O.K., I'll just refill the BBQ sauce, the pickles, and onions. 
I have to reach over and under the girls to fulfill my objective. 
"Refill the lettuce, too" Hamburger Helper orders. 
Bubble: But . . .
"You can't get in there," the Fry Guy notices.
Bubble: These Ladies of the Stand are chock full of hubris, it seams tonight.
"That's fine!  We will see who will last (on the line), come mid-August."
Bubble: These girls got some stones . . . they better not forget I taught them everything they know.
I repeat my thoughts aloud.
Jazz contests, "I was trained at the (Burger Stand) on the Field Level."
"But this (the Reserve Level) is the Big Time," Fry Guy counters.
Under my breath, "Field Level? -  Ha!"
Bossy Lady shouts from across the Stand, "Shut up J.C!" 
Bubble: At least someone's got my back, jeezuzz!
+++
5th inning,
After hustling burgers for most of the game, Maribel says aloud, "Look! There's (comedian) Felipe  
Esparza.  All of us try to peek through the Stand a la cart window to get a glimpse.  "He is the one with
the Mexico (National Soccer Team) jacket," Mari claims.  Apparently he was the winner of the "Last
Comedian Standing" reality t.v. show, a few years back.
Next, Hamburger Helper is on her on her way to the break room to look him up on youtube.  
She returns a few minutes later cracking up.
 "OMG, Maribel adds, Did you see the (video) of the girl who has a baby standing up?- I was like,
ewww."  We all laugh at the thought of the video.  Maribel also claims that the lady giving birth
vertically did it with out working a sweat. 
Bubble: Amazing!
+++
Before we make our way home most of us are at peace.  Dodgers won after all- the perfect panacea to a
night full of attitude.  Another cure for the drama is some good ol' nerd talk.  So I ask Tommy what he
thinks of the Star Trek reboot sequel that is about to open soon. 
Regarding the first film, Tommy says,
"I've came to terms with the . . . you know- time travel.  BUT! You can't undue "the Wrath of Khan."
No Way! . . . I mean, it's the Wrath of Kahn!!" 
HA!
Well said.
+++++++++++++++++++++++++++++++++++++++++++++++++++++++++++++++++++++++++++++++++++++
Game,
Dodgers over the Brewers 7-5.
Sweet!
84
____________________________________________________________________________________________________
Game 2
DODGER BAG GIVE AWAY NIGHT
LA Dodger Rookie M. Magill 0-0
versus
Milwaukee Brewer W. Peralta 1-1
++++++++++++++++++++++++++++++++++++++++++++++++++++++++++++++++++++++++++++++
I'm late to work again (!)- For no other reason but negligence.
The first thing to do is tackle the box full of mayonnaise.  A 32 oz. pan has to be filled for serving. 
Bubble:  The gates will be open soon! 
It's like I am always in a hurry but the mayo takes time.  Since it's a fresh box of May-O, it jiggles like
Jell-O.  My spoon can manage the globby consistency without spilling it on the floor or my apron.   
Bubble:  'When you rush you over cook', the Assistant to the Assistant told me the other day. 
(Focus)
One scoop at a time . . . easy does it. 
+++
Pickles – Lettuce – Tomato – Onions
Pickles – Lettuce – Tomato – Onions
Pickles – Lettuce – Tomato – Onions
+++
 Break room table,
Ever see "The Simpsons" eat at their dining room table?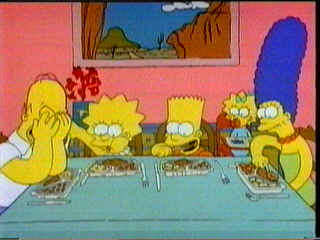 That is all of us (employees) scarfing down.  I'm eating a BLT sandwich.  The others have a variety of
junk food: Nachos, Doyer Dog, Pretzel, Cold Cut Sandwich, popcorn, etc.   It's like a pseudo-makeshift
family time.  Stadium employees eat together- elbow to elbow. 
Here is the order:  Me, Dodger Vendor, LAPD, Vendor, LAPD, Lady Concession Worker, and Dodger
Security Guard.   The table next to us consists of the Wetzel Pretzel workers (as usual) – elbow to
elbow. 
Munch – Munch – Munch
Munch – Munch – Munch
Munch – Munch – Munch
+++
Time to get my cup of coffee.
Passing the Portable Bar, Ronaldo the Union Card Carrying Bartender says to me, "The Rolling
Stones are playing at the Echo Plex tonight!" 
Bubble: No way!
 "I know the owner so I'm going to try to get in . . ."
"No way!!!"
"YES!" Go down the street, go check it out!  Their show is a warm-up before they play (at the Staples
Center).  It's going to be packed: Over flowing the Echo Plex, over flowing the Gold Room- You got
to go! You got to go!"    
"I'm definitely going to check it out!"
Bubble: AWESOME!!
+++
I notice that a group of fans seem to be confused where there seats are. 
"Good day sir . . . (with a smile) . . . Can I see your ticket please?"
I instruct the group to continue to walk down the 1st base side until they reach isle 22.  That simple.
"Thank you very much," the older gentleman imparts.
"Any time . . . (with a smile) . . ."  
Bubble: That felt good. 
+++
The view of the Top Deck is calling me.
Strolling through the Reserve Level concourse on my way to the spinal column that is the Stadium
stairway, I notice Roxy the Lucky Charm who is posted up against the wall, next to isle 8.  She
waves hello to me. 
"What are you doing," I ask.
"I'm waiting for a pretzel."
"Cool!  I'm going up stairs."
"Where?"
"To the Top Deck," I point to the direction with my eyes.
"You're crazy- don't fall," she jokes, "JK".
+++
Stairs,
Bubble: I really don't like it when some peeps say that I'm on the bandwagon because I cheer for the
Clippers, too.   
Top Deck,
Here come the people with their new Dodger Bags.
 Bubble: Stuff your extra sweater in there.  Your bottled water.  Your baby formula.  Dodger
program.  Digital camera. I pad.  Whatever you got people- just know that those zippers are cheap
and break easily, unfortunately. 
I see a lady Dodger security guard with her college (history) book tucked in hand, her other is holding a
bag with new Dodger merchandise. 
Nice!  Smart aannnd stylish .  .  .
(The view sure is nice from the Top Deck)
+++
Back in the Stand,
(Wash my hands in hot-hot water)
Not a second passes when suddenly Boss opens up a can of whoop ass- in my face.
"Why don't you listen!"
Bubble: Huh?
"You didn't (mark the) date (on) the mayonnaise!"
"The Green Team (aka the Stadium health inspectors) dinged us for that . . . "
"So, what does that mean?" I ask. 
(Hot water still running)
"Now our (Stand) score went down!"  
Bubble: Yikes!
"You ruined it for everyone!"
Bubble: Shock and horror.
(There's an eerie silence)
A Supervisors is standing nearby listening to the whole thing.
(Dry my hands)
I do the walk of shame to the burger line.
(Awkward silence)
The Fry Guy whispers, "You can stop bending over, now."
Good point.
+++
Pickles – Lettuce – Tomato – Onions
Pickles – Lettuce – Tomato – Onions
Pickles – Lettuce – Tomato – Onions
J.C. the Fry Guy asks, "Have you ever had a banana dipped in mustard?"
We go "EWWWW . . ."
"Gross!"
"Nope."
"How about a pickle dipped in peanut butter?"
"EWWWW . . ."
"No way!"
"Na-ah."
"It's the best !" he claims and then dumps a basket full of hot fries in the warmer.
+++
"Tommy, I took a drink out of your cup," Hamburger Helper tells our Broiler handler.
"You what!" he exclaims.
+++
Pickles – Lettuce – Tomatos – Onions
Pickles – Lettuce – Tomatos – Onions
Pickles – Lettuce – Tomatos – Onions
+++
5th inning 
The burger and fries rush has been tamed.
Jazz the Assistant to the Assistant is looking at the 2013 Dodger schedule that is taped to the
walk-in freezer.  Her finger is playing hop-scotch on specific days of the months of summer.  "I'm going
to Tijuana here, Vegas here, Vegas here, and El Salvador HERE!"   
+++
Throughout the game, there is an obvious rift between me and the Boss.
She has a question for me at some point, for what, I don't know.
"I'm not talking to you," I tell her.  I'm still sore.
"You have to- we are working (together)."
"Fine.  Just work, stuff."
Next, she tells me what to do- and I do it.
+++++++++++++++++++++++++++++++++++++++++++++++++++++++++++++++++++++++++++++++
Game,
Rookie Dodger pitcher Magill has a decent showing but middle reliever pitcher Guerrier can't stave off
the Brewer bats.
Brewers over the Dodgers 6-4.
+++
Bubble: Good call Ronaldo
 ____________________________________________________________________________________________________________________
 Game 3
KIDS BATTING HELMET
GIVE AWAY DAY
+++
Dodger ace Clayton Kershaw (2-2)
versus
Milwaukee Brewer k. Lohse (1-1)
 +++++++++++++++++++++++++++++++++++++++++++++++++++++++++++++++++++++++++++++++++++++++++++++
Employee Parking Lot,
"Hey! There's Ronnie!" I spy him by his car readying himself. 
It has been a while since I've seen him.
My buddy Damian who works at the Pizza Stand on the Field Level told me that our friend Ronald
Nelson (the Dodger Vendor Extraordinaire) became ill during a game last home stand.  The medics
had to attend to him.  They probably wanted to make sure his blood-sugar levels were stable.  My point
being, Ronald hasn't been around since.  Until, today- he's back!
+++
Earlier, I stopped by La Espiga Bakery for coffee and some goodies.  So, I am loaded with tamales for
this morning's breakfast.  10 green chili and cheese tamales with an extra spinach tamale that I was
given for free.  I'm 30 minutes late for work because I had to wash my work clothes this morning. 
Hopefully these tamales will help me out with some forgiveness.   
Walk into the stand, nonchalant.
I plug in the radio, nonchalant. 
Set the dial to the Beat 92.3:
George Clinton sings,
"Why must I feel like that?
Why must I chase the cat?
Nuthin' but the dog in me
+++
Pickles – Lettuce – Tomatoes – Onions
Pickles – Lettuce – Tomatoes – Onions
Pickles – Lettuce – Tomatoes – Onions
+++
Smokey Robinson is crooning,
I'm crryying . . .
"Ooooooooo baby, baby!
Ooooooooooooo baaaby baaabbby!"
The heavy set cook from the Stadium pantry has stopped by for a visit.  Most of the time, this dude
brings fresh fruit to share with my Boss.   He is sporting a USC Trojan hat to complement his white
"chef" attire.  I think the long paper hat is cooler but I'm just a biased UCLA fan anyway.   This guy is
the real deal.  I can tell because he has a rolled up copy of the Los Angeles Times "Saturday"
section, with all of the cool articles on the new LA restaurants and recipes, sticking out of his carrying
bag.  I'm not trying to listen but he and Boss Lady are busy chatting it up about relationships.  (Bosses
favorite topic)    
"Will you be my boyfriend?" she asks him. 
"Only for tonight," he replies as he sharpens the blade of one large knife with another. 
+++
Al Green cries out,
"I'm so tired of being alone
I'm so tired of on-my-own
Won't you help me girl
Just as soon as you caaaan?
+++++++++++++++++++++++++++++++++++++++++++++++++++++++++++++++++++++++++++++++++++++
On my break,
It seems that every Little League Team from Los Angeles proper  is here today. 
 Reserve Level Ban(y)o entrance stencils,
+++
I feel like checking out the Top Deck for a sec.  But not before I say hello to my devout Usher friend
Robert. 
He might be reading his pocket sized "Bible". 
Sure enough, he is.
"What book are you reading?"
"The Bible."
"I mean, what book of the Bible are you reading?"
"Oh . . . I'm reading James.
"Actually, I started memorizing a Psalm a day- today is the 23rd so I'll read Psalm 23.
"The whole Psalm?"
"I memorize the things- so, I say 'Well- the Lord gives me these promises, so I'll stand on these
promises.
"You'll have various trial (in your life)- I've had various suffering- I've been through hell and back- I'm
amazed that I'm still alive. . . (The Lord) has taken me through 4 heart attacks in one day- I've seen the
light . . . the nurse told me 'Robert, I have never seen someone survive what you have gone through'
and here I am now, talking with you.
"Thank you so much for talking to me," I tell him.
At the Top Deck,
Top Deck "Ban(y)o"  stencils:
+++
I see,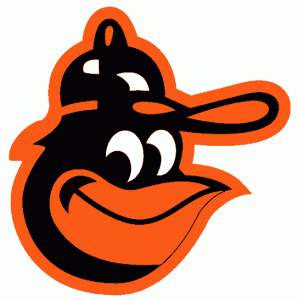 Two women are sporting Baltimore Oriel T-shirts with a large print of the birds face on their chest.  I'm
instantly amused.  Are they just moms with kids on a Oriel little league team?  I need to know.
"Is that for real?" I asked indiscriminately.
"Yeah, it's all about Cal Ripken," she affirms with a little bit of sass.
"Awesome!"
There is another fellow with a #47 Jessie Orozco jersey. 
Very rare . .. very cool.
I think a Carl Ripken jersey is more common, even here.
+++
+++++++++++++++++++++++++++++++++++++++++++++++++++++++++++++++++++++++++++++++++++++
The 1st Viva Los Dodgers Concert event is going on right now.
Meanwhile,
On the baseball field the kids are walking the entire baseball field.    
 +++
 The Stadium is packed.
On the Burger line,
Maribel warns, "Get ready for 'plain burger with cheese." 
It's what all of the kids ask for . . .
A little leaguer in Pirate uniform: "Can I have a plain burger with cheese, please?"
(Coming up!)
A little Blue Jay: "Plain burger please."
A little Cardinal: "Plain cheese, please."
A little Philly: "One plain cheese burger with ketchup, please."
A little Met:  "Can I have a plain hamburger?"
A little Padre: "Burger- plain, please."
A little Angel: "Can I have a burger with no lettuce, no tomato, no pickles, nothing on it- just plain?"
===
(With the quickness)
Pickles – Lettuce – Tomato – Onions
Pickles – Lettuce – Tomato – Onions
Pickles – Lettuce – Tomato – Onions 
+++
Jazzy is counting pickles per bread bun:       
1-2-3
1-2-3
1-2-3
1-2-3
+++
"Have you ever eaten a "Crabby Patty" I ask Maggie the Hamburger Helper
"You mean the one from Sponge Bob?"
"Yes"
"No, but I would love to taste one."
+++
"Stop touching my tongs!"
+++
Maribel tells me, "I asked (Jazzy and Maggie) to name Dodger players . . . they could only name two: 
Kershaw and Matt Kemp- and they barely named MK!" 
Maribel and I simultaneously:   HA!
Maggie contests, "No!  I named 8 of them: 1st base. 2nd base, 3rd base . . .
Suddenly the Stadium erupts in applause . . . .
Carl Crawford has smashed his second homer of the game.
Dodgers scored 2 runs?  YES!
+++++++++++++++++++++++++++++++++++++++++++++++++++++++++++++++++++++++++++++++++++++
Da' Game,
Kershaw shuts-out the Brewers 2-0.
Kershaw retires 18 consecutive batters and K's 12 batters.
And Kershaw gets weak run support once again.
Go Dodgers!
  +++++++++++++++++++++++++++++++++++++++++++++++++++++++++++++++++++++++++++++++++++++++++
I case you were wondering what was behind the Dodger  batting helmet in the picture above- its a  
GIANT Macaronni , check it.
84