Juego #1 vs Miami, May 12th
 Unas Noches Cubanas
(Cuban Nights)
+
Dodger Vet Dan Haren 4-1 (1.68)
Vs.
Miami Fish Thomas Koehler 3-2 (1.99)
Enter Yasil Puig, Night One
/
Primera Noche, Introduzca Yasil Puig 
+     +     +
@ The Stadium  .  .  .
Check-in I learn that the Chicken Tender Stand is closed for business.
This isn't a surprise since the attendance will be significantly lower.  It's a Monday night
game and Dodgers are facing the Miami Marlins, of all teams. There will be nothing but
Dodger Dogs Stands and pizza spots open on the Reserve.  So where the heck am I
going to provide my services?
"You're working at stand 746," the lady at the computer informs me.
"Where is that?"
"It's the Elysian Park Grill."
Bubble: Word up!
Never been.
Tonight will be my Elysian Park Grill debut, I guess.
+
  Need to get quick glimps for the soul.
Bubble:  Sweet!
+
Pass by the Dodger Vendors  .  .  .
+
 To my Destination  .  .  .
  And what a beautiful view from my work place.
 The kids play area is pretty cool.
Turns out that the EP Grill is very spacious.  
Nice work stations for the Freedom Fries and Burgers.
Plenty of walking room.
And, there are a number of familiar faces too:  Alma is managing, retired Boris from Russia
is working (check), Enrique is in the house, Little Rachel- present, my soul sista' Zee is here,
Ozzie is assisting, Eagle Rock Steve representing the Flip-side (word), and Eastside Art
 is on the grill, "A". 
These are some good peeps.


+         +  
 Now, what am I going to do?
"Your going be on the register Tony," Alma informs me.
Bubble: AHHHHEEEEELLLSSSNNOOOO!



I lie to her face, "I'm down, but it's been like 7 seasons though."
Her eyes slide to the left as she forms a thought.


"Can you go set up the condiment cart."
"For sure."  
I always do what I'm told.
 +     +
Bubble: I Love that spicy Deli mustard.
If you are VERY familiar with Dodger Stadium, then you know that there are two
types of condiment carts on each level.  There is the classic cart that features the
free standing relish and diced onion dispensers that only requires a simple crank to
dress your Dogs with tastiness- VERY easy access for Dodger Dogs.
Today, there are the new push-button carts that pump out ketchup and mustard,
but fans have to use a crappy spoon for the relish and onions to top their DDogs- NOT
so easy access.  This cart is my responsibly.  Dusty but not too bad.  It needs a little
detail on the chrome and a quick tune-up on the pump. 
(Done)
+       +       +
I'm wiping down the outside counter of the Stand when I hear,
"HEY TONY!" 
It's Gabriel el Mariachi my associate at North Hills Prep School.
"Hey man, he asks, where can I find some tasty Dodger Dogs?"
I know just the place, so I escort the fellow along with his pleasant
lady friend to the Extreme Dog Stand.
  El Mariachi likes the Cuban Dog and the Lady prefers the Doyer Dog.
+
They also enjoy the view.
+
 +
+     +      +
Back at the EPG, 
My fellow employees are pretty much chilling until the gates open.
"Tony I need your (cash) register card," my Manager asks me.
The only problem is didn't bring my card with me.
I tell her the unfortunate news.
Alma takes a moment to think, her eyes veer to the right.
And then she shot-calls,
"(Eastside) Art, you are going to be on the register and Tony is going to switch
to the grill."
Bubble: YES!!
"Aww, come on, A," Eastside laments.
"My bad bro!"
+
Bubble: I'm back on the grill, AGAIN!
As I'm getting ready to slap the patties on the girll Alma shouts from the
other side of the kitchen,
"This isn't CARLS JR, Tony!
"I don't want to see any blood!
"Well-done please!" 
Bubble: WOW! 
"OKAY!"  LOL
+ 
Looking at the steel skillet, it whispers: "come to me."


Bubble: Back on the Burgers AGAIN!
This kitchen serves up cheese burgers and burgers with sautéed onions
and blue cheese.
 "We don't need any Dodger Dogs right now, Tony," Ozzie explains.
"We are getting them from another stand."
Fine by me.
+
Gates are OPEN for business.

Bubble: Lets do this.
Wash my hands
Slide on some latex gloves
Add a mountain of chopped onions on the skillet
Line-up 6 rows of ground beef patties in fours
Dash of salt
Dash of pepper
Flips of the spatchula 
Later will come the cheese
And we are on-our-way.
Call me what my buddy JC the Fry Guy calls me: the Silver Spoon.
 +
1st inning,
Ozzie is applying, 
Pickles + Lettuce + Grilled Onions + Tomato  
Pickles + Lettuce + Grilled Onions + Tomato 
 Pickles + Lettuce + Grilled Onions + Tomato 
 +
2nd inning,
Pickles + Lettuce + Grilled Onions + Tomatoes
+
With dexterous skill I flip patties like on the BBQ at home.
So much fun!
Zee and I talk about the "good ol' days" back at thee old burger stand.
We talk about her grown children, how she doesn't have a car, again.
Good times.  I love me that woman ;)
+ +
3rd inning,
"Tony we need Dodger Dogs," Ozzie tells me.
"Dodger Dogs?"
"Yes, we need Dodger Dogs."
"Do we still prep them with brew?"
"(They) told us what we don't do that anymore," he replies.
"Ozzie, do me a favor, go get me some beer."
"Ok, papi, what ever you say."
Bubble: ? 
 +
Next Ozzie brings me a medium sized pan full off suds and I place it on the skillet.
Once it's at a boiling point I add the Dodger Dogs to marinate.
(10 minutes)
Place the dogs on the skillet in a single file line.
Turn them left to right, browning.
Add Suds to Dogs.
The casings start to brown, tiny splits, continue to marinate.
Suds evaporate and the Dodger Dogs are (well) done.
I do the dance with the Burgers and Dogs as needed.
 + + +
4th inning,
Work is not to busy but steady, the Garlic Fries are going like hot cakes. 

Sweet Lady Carol on the French fryer machine questions,
"All I'm saying, is, why arn't these people watching the game instead of eating?"
+
(Flipping patties like weight)
+
Beto the Beer Guy walks in the Stand, "Honey I'm home!"
+
Carmelize more onions  .  .  .
+
On the Field,
(HUGE STADIUM APPLAUSE)
Cuba's son Yasil Puig is at the plate.
Two men on base: Butera and Gordon.
Score is 3-1, Miami Fish are up.
Yasils music is dope:
Yasil's at-bat song as noted by The True Blue Crew, thanks!
Cubanos up in the house are super pumped up!
 +
Next,
Yasil smashes the pitch and goes deep center (438 feet),
Homerun!
Yasil Puig!
Yasil! 
Yasil! 
 Yasil! 
Dodgers 4, Miami 3 
+ + + + 
5th inning,
Business is winding down.
  + = + = + 
6th & 7 inning,
After that homer, the night is sluggish.
Dodgers are trying to hold on to the lead.
Time to clean-up.
I mopped and swept, next is this charred-up grill.
+
I realize what separates me from the Boys on the Grill who cook D Dogs in the
Stadium is that there is a method to the madness of getting this thing to a spit-shine.
I simply don't have what it takes.
My grill is cleaned to a point, I scrapped the top the best I could but not well enough.
It should be shinier.
+ = + = + = +
8th inning,  
It's time to go home. 
Alma lets me and Boris go first.  
"Good job, Tony," he tells me.
"You too Boris."
My bed is calling me.
+      +
These kids should be in bed too, lol.
+   +   +   +
The Game,
On the mound Dan Haren  proving to he good enough if the team can put up a few runs.
Awesome!
Dodgers win 4-3
84'
_________________________________________________________________________________
 game 2
Yasil Puig Bobblehead Night!
+      +      +

LA Dodger Ace Josh Beckett 0-1 (2.80)

Vs


Miami Marlin Jacob turner 0-0 (6.75)
=  +  =
=  + = +  = 
Walking the Stadium concourse,
(EYE) SPY:
A "Puig Knows" T
+

Some random dude with a Piazza #31 Dodger jersey.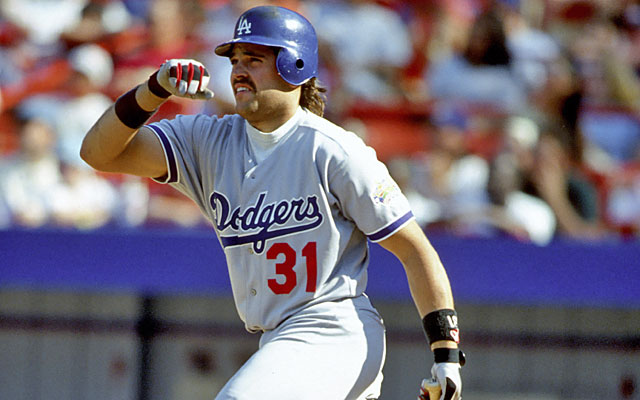 +
One gal rocking an LA Clippers beanie.
+
Fan PhotoGrrl Christy doing an awesome job.
+
  a  guy with pot belly with a "Clutch like Puig"- T 
+
a few fellas rocking the 66 PUIG FACTOR- T pic
+
My lunch un Cubano Dodger Dog 
+
Snoop Doggy Dog T on a girl with post punk hair (short)
+
a classy lady with a 2013 Mother's Day Dodger tote bag
 (My sister is substituting for the acutal girl, : )
=  +   =   +  =
 CK Tender Stand,
Sizzle + Crackle + Pop
=    + = +     =
Break time @ the portable bar,
(EYE) SPY:


A Dude in the Dark knight Heath Ledger Joker t-shirt, sick!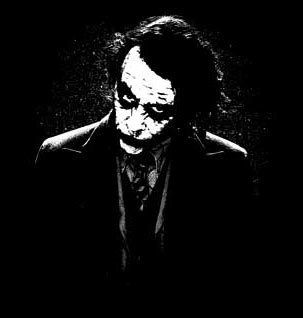 +
A Dodger Father and two Dodger sons (about 5 and 10) eating DDogs and Nachos- standing up!
Sucking down their sodas, popping fries in their mouths- like they are all ambidextrous. 
You have to see this to believe this.
+
Two daughters (about 24 and 27) and mom all in denim jean shorts, standing along the rail
over looking section 16, talking about the games they attended for Dodger give-a-ways.
+
One woman says to another about the film Gravity,
"It's a good movie, though.
"Oh you got to see it, it makes you cry."
+
Perspiring bald heads everywhere; glistening scalps are so gross.
+
Angie the Portable Bar Womanager is pacing to-and-fro, not confused but a little bit scattered.
"What are you doing, Angie?"
She admits with a smile and glimmer in her eye,
"When it's this hot my Brain starts giving up." 



+
5 minutes left  .  .  .
unil CK Tender Frying time.
It's best that I get a cup of coffee at the Doyer Dog Stand to get me speedy.
+ 
While I get my powdered cream and sugar at a near by counter, there is a gentleman
stuffing two bobble heads into a dodger duffel bag.  
He notices that I notice him and I say,
"You have to definatly make sure you have a bag when it's bobble head night."
"Yeah I'm sure I do," he admits, "and now I got 4 shelves in my living room for my BHs."
"That's great! Do you come to every BH night?"
With a proud cringe he says "Yes" and salutes me with a nod before he's off.
+
On the way back to the Stand, (eye) spy: 
#66 - T
 +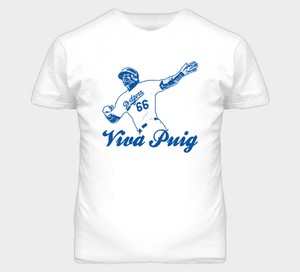 +
A homie in a Cienfuegos Puig 14 jersey.
I have to ask the dude, "What is that jersey bro?"
"It's Puigs Cuban team Jersey."
"Thanks!"
"Yeah no problem." 
+
What's up with the new Marilyn Monroe Dodger T-shirts?
These are getting real popular.
 +   +   +
The Game,
I hear Yasiel threw the cerremonial 1st pitch of the game to his mom, Maritza
 Courtesy of USATODAY
Yasiel also keeps his 13 game hitting street alive.
Josh Beckett earns his first win in over a year! 
The Dodgers win 7-1
84'
__________________________________________________________________________________
 game 3
La Ultima Noche Cubana
Dodger Rookie Paul Maholm 1-3 (4.71)


vs


Marlin Rookie Anthony DeSclafani 0-0 (0.00) debut
  +   +   + 
4:15pm.
I'm on time to the Stadium as usual but this ain't going to change anything.
Attendance is super low. 
The only peeps showing up tonight are expatriates from Cuba and refugees from Florida. 
My usual work place is closed, the Lady at check-in tells me that the Elysian Park Grill is already
full of would-be regular workers, so there is no other place for me to work but a Stand that I once
revered as a last option, the last straw, the one-and-only alternative to making a buck when all
else was lost to earn a pay check in this Space Ship – the Reserve Level  .  .  .
The Dodger Dogs Express 
 +   +   +
In the Stand,
"Are you with us?" Marlene the Manager asks me with a tuff as nails bite.
"Yes."
"Sign in."
"Ok"
Jonathan and Jason are in the house.
Familiar faces, again.
These guys are regulars. 
Thee Salesian Boys run this joint.
"This guys with us!"  Jonathan asks his buddy Jason who is prepping the grill.
Bubble:  Every Stand in the Stadium has its own personalities, its own loyalties.

+


It's was like Club Med up this joint last time I recall
Like the sauna at Club Med.
As hot as the Devils Kitchen in this fish tank but tonight's weather is slightly cool
than yesterday.
No worries.
+
Time to do some prep work before gates open: 
WE fill nacho containers with chips like sardines in a can, packed.
Jonathan mixes Garlic Fries.
Jason marinates the Dodger Dogs.
Fire-up the sodas and beer spouts.
Heat of the Nacho Cheese.
Wrap the Super Dogs.
Wrap the Dodger Dogs.
Pass some time.  .  .
+
Big Jonathan acknowledges that its going to be a slow evening with tonight's
attendance but my brother as some reassuring words:
"We got a radio."
The jam ""A Lovely Day" by Bill Withers sampled by T.W.D.Y. is setting the tone.
+
Ron, a semi-retired substitute school teacher (a nice guy) is wrapping DDogs with
a group of Spanish speaking ladies and he is talking about how our employer is
short staffing stands on busy work days and over-staffing on slow nights like tonight. 
(Ron not shown)
Bubble: Who's complaining?At least we are working.
Ron is going on and on and on and on and on and on, he complains about the Dodger
payroll,he starts talking in Spanish all of the sudden.  .  .
"Watch, these ladies tell him to shut up sometimes," Jonathan tells me.
That would be worth the wait, LOL.
I just think it's amazing how much stuff this fella can bring up.
+

There's a little lady,
Irma's glasses drop to tip of her nose, hair up in a bit wrapped up with a doo rag. 
Se habla Espanol, solamente.  She's the boss of wrapping DDogs.  And she wants me
to help her cover the silver table we make Garlic Fries on with plastic wrap.
The aluminum goes on first, plastic after, she instructs me.  I try to help but I am
too fast paced, to hyper with my hands and fingers.
"Calmate!" she scolds. (Calm down)
I take a step back.

"Niño aydame por favor," she requests.  (Please help me, boy)
I try to help again.

"Calmate, mijo! - Por favor."  (Calm down, please!)
Meanwhile,
the radio is bumping "It's a hard knock life" by Jay Z.
+
Outside of the Stand,

There is a Dodger Usher meeting, isle 9.
The Tallest Usher giving the prep talk is the head honcho.  I have been feeding him for
years at the old burger stand.  The surrounding Ushers are fanning themselves with
their daily agenda paperwork.
+
I have to endure one more round of Irma micro-managing my every move:
"Levantate ese caja." (Pick up this box)
"Esperate" (Wait)
"Agara lo."  (Hold it)
Bubble: Sigh!
+

Break time,


The American Red Cross lady at the Dodger vs. Angel Booster Blood Drive Challenge
table asks me, "Have you signed up for the blood drive yet?"
I answer, "Yes! June 14." 
"You got it right!" she exclaims.
 LOL
+

At the Extreme Dog Stand,
Where mom works, business is slow: "Hi Mom!"
I see my Tuff Lady Usher Isabel with H2O getting hydrated.
Bubble: She the best!
"I love you!" I tell her as she walks to her post.
+
Now I'm thirsty.  .  . I turn back to the Extreme Dog Stand.


I ask the Manager Jenny if I could get a cup of ice?
"It's really hot," I explain.


She replies sarcastically, "Really? The temperature is only 95 degrees in LA."
She's the best, Jenny explains to cope with the heat is easy,
"Whenever we want to reach back and slap a drunk customer, and it's all ok."
Sarcasm. LOL
+
In the Breakroom,
LAPD walking out of the break room are griping on to their cups filled with ice water.
Bubble:Those peeps got to be hot with all of that gear on.
 +
Anyway its lunch time, the Doyer Dog to the max.
+
A little Later,
I spy a baseball fan with a Miami Marlin #27 Mike Stanton jersey. (Respectable)
+
There are a couple of Volunteer Fire Fighters representing the Donation to
the San Fernando Rescue Mission cause. 
I got $5 in my pocket to give, for sure.
 +
Back to work @ the Dodger Dog Express,
The Salesian Boys are telling me of their plans to see the Dodger play in San Diego in June. 
They tell me that "Deadpool" Tommy from the CK Tenders Stand will be rolling with them.
(Sounds sooo dope) And then, Jonathan gives me the best compliment of the season and tells
me, "Anyway, welcome to the Stand bro!"
"Thanks bro, much appreciated," is all I can say.
Bubble: I sold.  This place is now my new home away from home, option #2.
+
And the best part is Jason has a nice sized Ghetto Blaster to rock to every game.
While we work,
Luniz croons, "I got five on it!"


Ice Cube raps,"Today I didn't have to use my AK ."


Jay Z rhymes, "Like Tupac's soul!"

Nate Dog harmonizes, "The rhythm is the base and the base is the treble!"


Kanye West shouts, "I need you right now!"
Next,
Jason changes the radio station to an AM channel.

To game 6 of the Los Angeles Kings vs the Anaheim Ducks- Kings up 2-1
+
Bottom of 4th,
WTH!!!
Marlins are up 9-0.
Little Irma is in disbelief, "Nueve a cero, que gacho!" she exclaims. (9-0, what a low down shame)
"Qien es el pitcher (de dodgers)?" she asks (Who is the Dodger pitcher0
Moholm, is pitching I tell her and explain, "Es su primer ano." (He is a rookie)
"Ni modo!" she argues, "(El) es profesional." (Regardless, he is a professional.)
Bubble: True, true, verdad, verdad.
+
All of the sudden the score is 12-0 Marlins.
This is ridiculous!
+
Bottom of the 6th,
Puig is up to bat and he smashes a double and the fans go ape doo doo.
High fives all around.
Fist pumping.  
+
Janelle who is on the sodas complains, "I wanna ago home!"
The workers are tired.
And the kings are still up 2-1.
+

"As long as the kings win," Jonathan proclaims.
+
We are almost out of here.
After mopping, I dump a dirty bucket of water that was in the sink and Irma
gives me hell for it.
"Yah tirastes el jabon!" she complains.  (You dumped the soap!)
Bubble: Damn!
"Tirastes el jabon" she repeats.
I can't help but laugh a little bit.
"Tienes que preguntas," she tells me I need to ask her.
I can't stop smiling.

Pointing to an other area under the sink, Irma proclaims,
"Tenemos un monton de jabon allí!"  (We have a lot of soap, there!) 
Bubble: Ok! OK! But i'm lost in tranlation, why you mad? lol
"Pregunta, eh!" (Ask, eh!)


"No tiras el jabon," she digs into my soul, pointing at me. (Don't dump the soap)
Another woman tells me, "Que le regana, lol." (She is ripping you another one.)
I try to hold in my laughter. 
Jonathan jokingly calls me out for my lack of seriousness.
Too funny, I spilled the soap, my bad, lol.
+     +
At last,

Dishes came my way.
Jonathan cleaned the Fryer area.
Jason finished scrubbing the grill.
This is how its done.
+ + +
The Game,


Score is 13-1, Marlins

2-1 King over the Ducks- We'll take it!